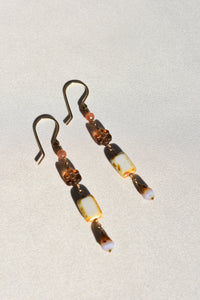 Spring/Summer in an earring. This earring has a sunstone, smokey quartz daisy, white Czech rectangle bead, and lavender opal Czech teardrop bead wire wrapped together for a long dangle. 
Note: Lighter colored stones have a natural tendency to trap dirt when mixed with body chemicals, water, perfume, etc. Please take off jewelry when needed to avoid this.
Length: 2.75 inches
**Psst.. all ear hooks are hand shaped 

What is Gold Filled and Sterling Silver? How do I take care of it?